Featured Products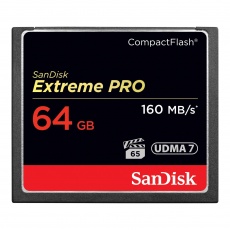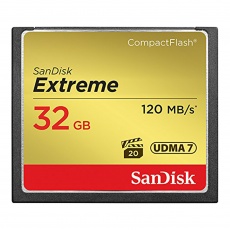 ---
---
---
---
---
Compact Flash and CFast cards
CompactFlash Type I (CF-I)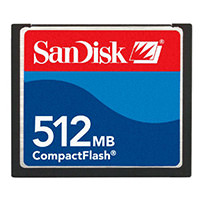 CompactFlash (CF) was first introduced by SanDisk in 1994 and it quickly gained traction compared to all other formats of its time, because it offered solid performance and it was not as prone to bending or breaking as some other memory card types, thanks to its denser shell construction. As a result, a number of camera manufacturers like Nikon and Canon adopted CF as their standard in high-end cameras, making CF popular among enthusiasts and professionals. CompactFlash Type I (CF-I) memory cards are the most common and have dimensions of 42.8 (W) x 36.4 (L) x 3.3mm (H) – these are the memory cards that were widely adopted by many cameras and portable devices. The biggest issue with CF cards turned out to be their large size and pins, which are prone to bending on memory card readers. Another limitation of CompactFlash is that it utilizes the slow Parallel ATA / IDE bus. Despite the introduction of newer CF-I revisions that allowed these cards to reach up to 167 MB/sec speeds in Ultra DMA Mode 7 (more on CF memory card speeds below), the bus itself imposed the limit on maximum throughput. As a result, new standards had to be developed to move away from CF cards.
CompactFlash Type II (CF-II)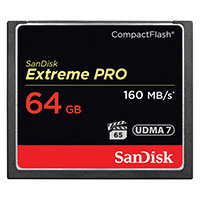 CompactFlash Type II (CF-II) memory cards were developed in order to allow memory cards to be used as "microdrives" (miniature hard disks) or adapters to read other memory cards. Therefore, the only difference between CF-I and CF-II is the physical height. CF-I cards have a height of 3.3mm, whereas CF-II cards are a bit thicker at 5mm. Both use exactly the same type of connection, but since CF-II cards are physically thicker, memory card readers need to be able to accommodate them. Since the idea of microdrives never got real traction and faster flash memory took over due to lower cost, capacity and reliability, most manufacturers including Nikon ended up dropping support for CF-II cards in their cameras.

How many pictures can my memory device hold?
The following assumptions were made to calculate the number of images per card:
MP = 1,000,000 pixels
1MB = 1,000,000 bytes, 1GB = 1,000MB
TIFF image has 24 bit color depth, one of 16,777,216 colors per pixel
JPEG 100% Quality = Visually lossless JPEG compression with 1:10 ratio of RAW image
Photos - Compressed (JPEG 100% quality) Images per card.

NOTE: JPEG is the most common file format for consumer cameras.
| | | | | | | | | | |
| --- | --- | --- | --- | --- | --- | --- | --- | --- | --- |
| Megapixels | File size (MB) | 1GB | 2GB | 4GB | 8GB | 16GB | 32GB | 64GB | 128GB |
| 4MP | 1.2 | 715 | 1430 | 2861 | 5722 | 11444 | 22888 | 45776 | 91552 |
| 5MP | 1.5 | 572 | 1144 | 2288 | 4577 | 9155 | 18310 | 36620 | 73240 |
| 6MP | 1.8 | 476 | 953 | 1907 | 3814 | 7629 | 15258 | 30516 | 61032 |
| 7MP | 2.1 | 408 | 817 | 1634 | 3269 | 6539 | 13078 | 26156 | 52312 |
| 8MP | 2.4 | 357 | 715 | 1430 | 2861 | 5722 | 11444 | 22888 | 45776 |
| 10MP | 3.0 | 286 | 572 | 1144 | 2288 | 4577 | 9155 | 18310 | 36620 |
| 12MP | 3.6 | 238 | 476 | 953 | 1907 | 3814 | 7629 | 15258 | 30516 |
| 14MP | 4.2 | 204 | 408 | 817 | 1634 | 3269 | 6539 | 13078 | 26156 |
| 16MP | 4.8 | 178 | 357 | 715 | 1430 | 2861 | 5722 | 11444 | 22888 |
| 22MP | 6.6 | 130 | 260 | 520 | 1040 | 2080 | 4161 | 8322 | 16644 |

Photos - Uncompressed RAW (24 bits per pixel) Images per card
| | | | | | | | | | |
| --- | --- | --- | --- | --- | --- | --- | --- | --- | --- |
| Megapixels | File size (MB) | 1GB | 2GB | 4GB | 8GB | 16GB | 32GB | 64GB | 128GB |
| 4MP | 12.0 | 71 | 143 | 286 | 572 | 1144 | 2288 | 4576 | 9152 |
| 5MP | 15.0 | 57 | 114 | 228 | 457 | 915 | 1831 | 3662 | 7324 |
| 6MP | 18.0 | 47 | 95 | 190 | 381 | 762 | 1525 | 3050 | 6100 |
| 7MP | 21.0 | 40 | 81 | 163 | 326 | 653 | 1307 | 2614 | 5228 |
| 8MP | 24.0 | 35 | 71 | 143 | 286 | 572 | 1144 | 2288 | 4576 |
| 10MP | 30.0 | 28 | 57 | 114 | 228 | 457 | 915 | 1830 | 3660 |
| 12MP | 36.0 | 23 | 47 | 95 | 190 | 381 | 762 | 1524 | 3048 |
| 14MP | 42.0 | 20 | 40 | 81 | 163 | 326 | 653 | 1306 | 2612 |
| 16MP | 48.0 | 17 | 35 | 71 | 143 | 286 | 572 | 1144 | 2288 |
| 22MP | 66.0 | 13 | 26 | 52 | 104 | 208 | 416 | 832 | 1664 |