Featured Products
Benro GH2F Folding Gimbal Head
Foldable for storage and transportation. Arca Swiss style mounting platform. Rotating arm can be used separately as an L-bracket - allows easy movement from landscape to portrait format without having to re-centre the subject. Includes ¼ and 3/8 inch accessory mounting threads. 10kg / 22lb Maximum Payload.
£479.00
£349.00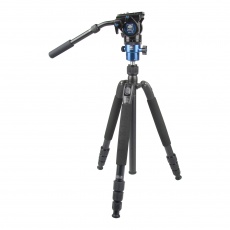 Sirui VHD-2004 Tripod + Monopod with VH-10 Head
VHD-2004 tripod with padded four-section legs, ball head and VH-10 fluid head. Load capacity of 15kg, 2.49kg weight, maximum height of 175cm, and minimum height of 23.11cm. Twist leg locks and removable leg for use as a monopod. Quick release plate with both 1/4 inch and 3/8 inch mounting screws. One bubble level on the legs and two on the fluid head help with balance.
£299.00