Celestron
Celestron has been an optics industry leader for decades, ever since Tom Johnson unveiled the game-changing C8. Celestron continue strive to his legacy by continually developing exciting products with revolutionary technologies.
---
Celestron Limited Lifetime Warranty
Celestron warrants all of its optical products to be free from defects in materials and workmanship. Binoculars and spotting scopes have a limited lifetime warranty, while telescopes, accessories, and microscopes have a two-year warranty.
---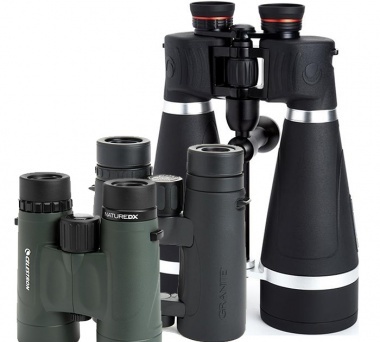 Celestron Binoculars
Celestron make a wide range of binoculars to suit many interests, including Bird Watching, Nature Observation and Astronomy.
Browse our Celestron Binoculars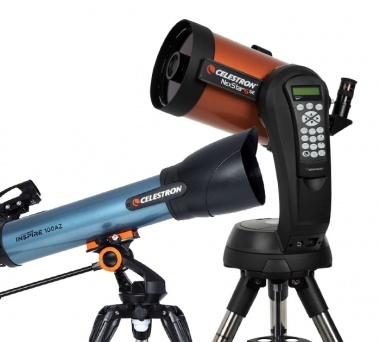 Celestron Telescopes
Celestron have a comprehensive range of telescopes to suit the curious beginner to the avid astronomy enthusiast.
Browse our Celestron Telescopes
---
---
How do I choose an Astro Telescope?
A basic telescope consists of an objective lens, or 'refractor' at the front and a second 'eyepiece' lens at the other.
If you build a longer and more powerful telescope, the objective lens needs to be bigger and heavier and is better replaced by a curved mirror, or 'reflector'. The Hubble space telescope is a good example. Most of our range of Astro telescopes are reflectors.
Can I use binoculars for stargazing?
Binoculars actually offer a variety of benefits. Not only are they more affordable, but they are also easy-to-use, highly practical and don't need to be set up on a mount or tripod – ideal for beginners that are just getting to grips with astronomy. Celestron Trailseeker 8x42 ED Binoculars are perfect for stargazing as they feature fully multi-coatings and BaK-4 prisms for the brightest, most detailed images possible. They are packed with optical, mechanical, and ergonomic features that make them comparable to binoculars costing two to five times as much. Or, if you're considering a pair of binoculars with a higher magnification specifically for stargazing, then the Celestron Skymaster Pro 20x80 Binoculars might be a better option for you. The 80mm objective lens and low dispersion glass offer maximum image clarity to help you to see the more distant stars and galaxies.
Which telescope should I use for stargazing?
A powerful telescope is the go-to piece of equipment for stargazing, A telescope will provide exceptional quality, stability and detail when viewing the moon, stars, planets and more. The Celestron Nexstar 130SLT telescope is a great option for stargazing. Its five inch mirror and up to 72x magnification are ideal for viewing star clusters and nebulae. Its motorised mount with computerised hand control automatically take your to your selected celestial object and, even on your first time out, you can assemble the telescope and its accessories in just a few minutes.
Are monoculars good for stargazing?
Despite binoculars often being the preferred choice of equipment for stargazing, you can actually achieve the same magnification and field of view as binoculars with a monocular. Due to their lightweight and compact design, monoculars are becoming the preferred option for casual stargazing. We highly recommend the Vortex Solo 10x36 Monocular. It features a 10x magnification, a generous objective lens, and a housing designed to withstand the elements.
If you would like any more information or help choosing your Astro Telescope give us a ring or use our live chat option.
---
Quick round up of Celestron
Celestron was founded in 1964 in California after a certain Tom Johnson took a break from his day job of running a factory that produced components for the US military and built a 6 inch reflector telescope for his sons. A single lens or reflector does not produce a clean image and so extra lens elements are added to tidy things up. In the case of a reflector scope a complex aspherical lens or 'corrector plate' is added to correct the abberations and produce a much clearer image.
After producing his first prototype, Tom Johnson developed a new method of moulding the aspherical corrector plate so that it could be mass produced without the need for highly specialised hand grinding and polishing. The Celestron C8 became the must-have scope for amateur astronomers in the 70s.
The C8 reflector has evolved into a wide and diverse range of Astro scopes. The next innovation was 'Goto' technology and now all but the most basic models can be linked to a computer, or smart device, to zoom in on a star or galaxy of choice by simply tapping the screen on your smartphone. Take a look at the Celestron StarSense Explorer LT 80A for under £200 or the the Celestron Astrofi 130mm Newtonian Reflector.
Celestron was sold to Tasco in 1980 and then, when Tasco collapsed in 2001, absorbed into Synta Corporation of Taiwan who had been a components supplier for many years.
With the additional manufacturing capacity in Taiwan, Celestron added binoculars and spotting scopes to their range. As well as large observation glasses such as the Celestron Skymaster 25x100 Porro Prism binoculars for star-spotters and ship-watchers, they now produce a wide range of high-quality binoculars for birders, safari-trippers and nature-watchers of all varieties.
---