Featured Products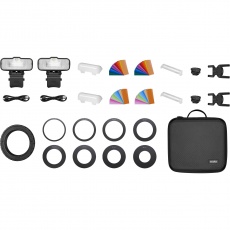 Godox MF12-K2 Macro Flash Kit containing two MF12 flashes plus accessories
Extremely versatile lighting - The fully removable, wireless flashes are great for macro and creative off-camera flash work. Unlimited flexability - The mounting ring allows for extra flash heads to be attached and offers 360 degree mounting options. High-performance battery - The powerful built-in lithium battery provides fast recycling times and long lasting power. Portable - The compact setup and handy carry case means you can take it out into the field with ease.
£249.00
Godox RING72 Macro LED ring light
Simple and effective - Easy to operate control layout, ideal for those wanting to expand their photography skills. Creative control - Easily change from a full ring illumination to half-sided. Two ways of power - Choose 4 AA batteries or lithium batteries according to your preference, charging is simple and convenient.
£77.00