---
Canon Stereo Microphone DM-E100
Canon Stereo Microphone DM-E100Take your movies to a brand-new level with thanks to a small and practical microphone offering stereo sound and low noise.Small microphone – big sound - Add crystal clear stereo sound to your movies using this high-quality lightweight microphone that plugs direct into a compatible Canon camera.Electret stereo condenser designPlug-in power (powered by camera)Hot...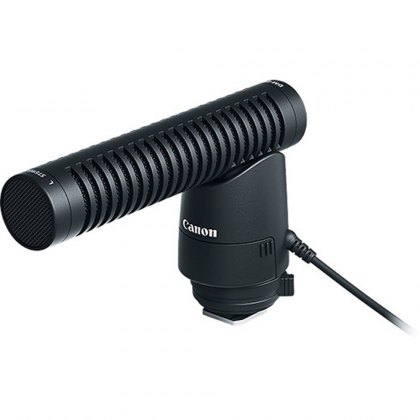 Canon Directional Stereo Microphone DM-E1
Canon Directional Stereo Microphone DM-E1 Crisp sound. Superb performance. The Directional Microphone DM-E1 can help experienced videographers and aspiring filmmakers alike achieve high-quality audio when recording video using a compatible Canon EOS digital camera.It features a number of directional controls to suit the environment and your shooting needs. Shotgun mode keeps audio focused on a subject...