Featured Products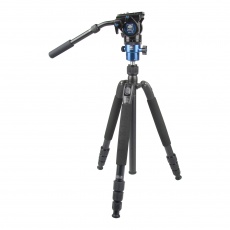 Sirui VHD-2004 Tripod + Monopod with VH-10 Head
VHD-2004 tripod with padded four-section legs, ball head and VH-10 fluid head. Load capacity of 15kg, 2.49kg weight, maximum height of 175cm, and minimum height of 23.11cm. Twist leg locks and removable leg for use as a monopod. Quick release plate with both 1/4 inch and 3/8 inch mounting screws. One bubble level on the legs and two on the fluid head help with balance.
£299.00
---
---
---
---
---
---
---
---
---
---
---
---
---
---
---
---
---
---
---
---
---
---
---
---
---
Tripod Heads
What type of tripod head is best?
There are four main types of tripod head. Which one is best for you depends on your own priorities and what is significant to you.
Video head
This is traditionally the most common type of tripod head. A tripod was essential in the early days of home movie-making where the slightest shake or jerk made watching an unpleasant experience. 'Keep the camera still and let the subject do the moving' is just as good advice now as it was fifty years ago.
The pan and tilt, or video head, became popular at the cheaper end of the market as both movements can be locked individually without the need for precision engineering.
The head comes with a long handle to rotate or 'pan' the camera. (as in Panorama) The head can also tilt up and down to line up with the subject. Both movements are quickly locked by twisting the handle which avoids having to fumble around underneath the camera or scope to find the correct knob.
A fluid head introduces oil into the horizontal movement to make the panning action even smoother.
A video head is considered the best for birding. A large, high-magnification spotting scope can be lined up on the surface of a lake and then panned across before being slung over the shoulder to be carried securely to the next hide. A quick-release plate is not necessarily an advantage in this instance.
Is a ball head tripod better?
This is the most popular tripod head these days. A ball and socket head is compact and allows you to point and then lock your camera into position quickly. If it is well made, it will lock securely. Otherwise, it can be prone to tip over and transport your expensive, and much loved, kit to the ground.
If a ball head is precision made with a separate, locking panoramic function, it replicates the features of a video head and becomes a supremely useful, all-purpose head.
How about a 3-way tripod head?
A two-way or three-way head is similar to a video head but lacks the long handle. You can move the head in each direction, set it up precisely and quickly lock it in place. It is an excellent choice where precision framing is essential. Perhaps for architecture, product photography or pin-point accurate landscapes.
What is a Gimbal head?
Gimbal heads have become popular when using a long lens for wildlife. Unlike a conventional head, a gimbal head hangs from a raised pivot (in a similar way to a shepherd's lantern) rather than bolting directly to the tripod. It is more cumbersome, but allows the camera to be hung loosely and moved quickly in any direction if desired. It also eliminates the chance of £10000 worth of camera and lens tipping over and crashing to the ground because the head wasn't clamped quite tightly enough.
What is the best tripod head for landscape photography?
If you are in a hurry to catch a fleeting cloud, a ball head allows you to move and then lock the camera into position.
More likely, you will have your camera set up and wait for the clouds to come to you. A three-way head allows you to set up the camera accurately and lock it firmly in position. Also, you can lock one movement and move the camera smoothly in the other plane to capture similar shots of the same scene.