Featured Products
Canon EOS 2000D DSLR Camera with 18-55mm IS II Lens
£30.00 Canon Summer Saving £25 Canon Summer Saving when you buy with an EF-S 10-18mm lens until August 3rd£15 Canon Summer Saving when you buy an EF-S 24mm F2.8 STM lens until August 3rdOne year UK WarrantyEasy-to-use, entry-level Digital SLR24.2 MP, APS-C sensor, 5 fps, Dual Pixel CMOS AFWi-Fi, NFC connectivityFull HD movies
£469.00
£439.00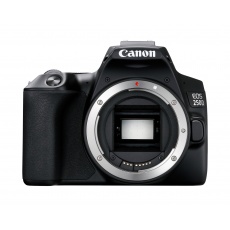 Canon EOS 250D DSLR Camera Body
£20.00 Discount £25 Canon Summer Saving when you buy with an EF-S 10-18mm lens until August 3rd£15 Canon Summer Saving when you buy an EF-S 24mm F2.8 STM lens until August 3rdOne year UK Warranty24mp CMOS Crop sensorDIGIC 8 processor for great performance Top quality 4K MoviesDual Pixel CMOS AF - fast focusing for Stills and Movies Wi-Fi and Bluetooth connectivityOptical SLR viewfinder - see without battery power
£549.00
£529.00
Canon EOS 250D DSLR Camera, black with 18-55mm IS STM Lens
£20.00 Discount £25 Canon Summer Saving when you buy with an EF-S 10-18mm lens until August 3rd£15 Canon Summer Saving when you buy an EF-S 24mm F2.8 STM lens until August 3rdOne year UK Warranty24mp CMOS Crop sensor3x Zoom lensDIGIC 8 processor for great performance Top quality 4K MoviesDual Pixel CMOS AF - fast focusing for Stills and Movies Wi-Fi and Bluetooth connectivityOptical SLR viewfinder - see without battery power
£649.00
£629.00
---
---
---
---
---
---
---
---
---
---
Canon EOS DSLR Cameras
Go further with Canon EOS - the world's most comprehensive system of cameras, interchangeable lenses and accessories. Proven by professionals in the field. Favoured by photographers everywhere. Canon produce some of the most sought after and best quality photographic equipment available.
You can find all our current offers, from price savings to free add-ons, by clicking the Canon Promotions banner on the home page. Check our Events page to find out when you can get your hands on the latest and greatest from Canon and take advantage of one-day-only deals.
The EOS 5D range of cameras has become one of the most popular full-frame cameras on the market. Take a look at the Canon EOS 5D Mark IV specification.
The Canon EOS 1D X Mark II is the ultimate pro camera - a workhorse that will not let you down. A Mark III update is due next year in time for the Olympics.
The Canon EOS 7D Mark II has been very popular with wildlife photographers and the 90D has generated a new wave of enthusiasm for photographers who appreciate the benefit of a clear, battery free, optical viewfinder. Their slightly smaller, 'crop' sensors increase the magnification of any lens by a factor of 1.6. Check them out with the Canon EF 70-300mm F4-5.6 IS II USM or the Canon EF 100-400mm f4.5-5.6L IS II USM lenses. And remember that you can invest in EF lenses for your EOS DSLR knowing that it can be adapted to perform equally well on a Mirrorless EOS R or Sony Alpha.