Featured Products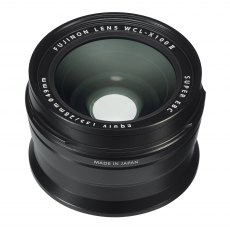 Fujifilm WCL-X100 II Wide Angle Lens Black
Shoot wider - The WCL-X100II converts your 35mm FOV to a wider 28mm FOV allowing to capture more of the scene. Auto conversion - When mounted to the X100F and X100V, the camera automatically recognizes the conversion lens and corrects aberrations. Filter compatible - The WCL-X100II allows the use of 49mm front filters . 0. 0. 0. One Year Warranty
£259.00
Nikon MB-N12 Power Battery Grip
Battery Grip for Z8. Maintains balance when shooting in a vertical orientation. Provides extended shooting time. 0. 0. 0.
£349.00
Panasonic DMW-BGS1E Battery Grip for Lumix S series
Extend battery life - Add an additional battery for prolonged shooting times. Vertical shooting - The grip features the same buttons and control layout as the camera itself. Highly durable - Designed to perform under the same standards as the camera in all weathers.
£299.00
£249.00