Featured Products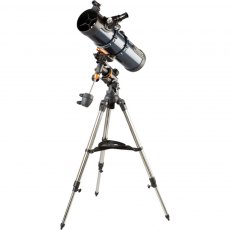 Celestron Astromaster 130EQ-MD Reflector Telescope
One year UK WarrantyErecting eyepiece makes this 5in reflector astroscope an excellent spotterMulticoated to reduce flareMotorized mount65x magnification with 10mm eyepieceWeighs 11kg with tripod
£229.00
---
---
---
---
---
---
---
---
---
---
---
Celestron Telescopes
Celestron was founded in 1964 in California after a certain Tom Johnson took a break from his day job of running a factory that produced components for the US military and built a 6 inch reflector telescope for his sons. A single lens or reflector does not produce a clean image and so extra lens elements are added to tidy things up. In the case of a reflector scope a complex aspherical lens or 'corrector plate' is added to correct the abberations and produce a much clearer image.
After producing his first prototype, Tom Johnson developed a new method of moulding the aspherical corrector plate so that it could be mass produced without the need for highly specialised hand grinding and polishing. The Celestron C8 became the must-have scope for amateur astronomers in the 70s.
The C8 reflector has evolved into a wide and diverse range of Astro scopes. The next innovation was 'Goto' technology and now all but the most basic models can be linked to a computer, or smart device, to zoom in on a star or galaxy of choice by simply tapping the screen on your smartphone. Take a look at the Celestron StarSense Explorer LT 80A for under £200 or the the Celestron Astrofi 130mm Newtonian Reflector.
Celestron was sold to Tasco in 1980 and then, when Tasco collapsed in 2001, absorbed into Synta Corporation of Taiwan who had been a components supplier for many years.
With the additional manufacturing capacity in Taiwan, Celestron added binoculars and spotting scopes to their range. As well as large observation glasses such as the Celestron Skymaster 25x100 Porro Prism binoculars for star-spotters and ship-watchers, they now produce a wide range of high-quality binoculars for birders, safari-trippers and nature-watchers of all varieties.