Please
contact us
if you can't find what you're looking for.
---
XQD Memory Cards
XQD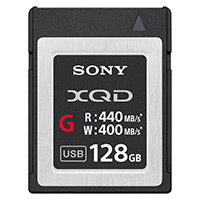 XQD was a new memory card form factor introduced in 2010 by SanDisk, Sony and Nikon. Since it is based on the fast PCI Express interface, it clearly stood out from all other memory cards developed before, so it was immediately picked up by the CompactFlash Association for development. Essentially, XQD replaces both CompactFlash and CFast as the new form factor. With its 38.5 (W) x 29.8 (L) x 3.8mm (H) dimensions, it is physically smaller than CompactFlash / CFast cards and it has a much superior build than both SD and CF cards, since the cards are denser than SD and they no longer utilize pins on the host that could easily break or bend. Among camera manufacturers Nikon was the first to standardize on XQD cards with its Nikon D4, D4S, D5, D850, D500, Z7 and Z6 cameras using single or dual XQD memory slots. Although the first N-Series XQD cards were limited to 125 MB/sec read and 80 MB/sec write speeds, the last generation G-Series XQD cards have been able to reach much faster 440 MB/sec read and 400 MB/sec write speeds. With the XQD version 2.0 standard, the maximum theoretical throughput of XQD cards was pushed up to 1 GB/sec, although no such cards exist today. Similar to CFast, XQD has also seen a very slow adoption rate.

How many pictures can my memory device hold?
The following assumptions were made to calculate the number of images per card:
MP = 1,000,000 pixels
1MB = 1,000,000 bytes, 1GB = 1,000MB
TIFF image has 24 bit color depth, one of 16,777,216 colors per pixel
JPEG 100% Quality = Visually lossless JPEG compression with 1:10 ratio of RAW image
Photos - Compressed (JPEG 100% quality) Images per card.

NOTE: JPEG is the most common file format for consumer cameras.
| | | | | | | | | | |
| --- | --- | --- | --- | --- | --- | --- | --- | --- | --- |
| Megapixels | File size (MB) | 1GB | 2GB | 4GB | 8GB | 16GB | 32GB | 64GB | 128GB |
| 4MP | 1.2 | 715 | 1430 | 2861 | 5722 | 11444 | 22888 | 45776 | 91552 |
| 5MP | 1.5 | 572 | 1144 | 2288 | 4577 | 9155 | 18310 | 36620 | 73240 |
| 6MP | 1.8 | 476 | 953 | 1907 | 3814 | 7629 | 15258 | 30516 | 61032 |
| 7MP | 2.1 | 408 | 817 | 1634 | 3269 | 6539 | 13078 | 26156 | 52312 |
| 8MP | 2.4 | 357 | 715 | 1430 | 2861 | 5722 | 11444 | 22888 | 45776 |
| 10MP | 3.0 | 286 | 572 | 1144 | 2288 | 4577 | 9155 | 18310 | 36620 |
| 12MP | 3.6 | 238 | 476 | 953 | 1907 | 3814 | 7629 | 15258 | 30516 |
| 14MP | 4.2 | 204 | 408 | 817 | 1634 | 3269 | 6539 | 13078 | 26156 |
| 16MP | 4.8 | 178 | 357 | 715 | 1430 | 2861 | 5722 | 11444 | 22888 |
| 22MP | 6.6 | 130 | 260 | 520 | 1040 | 2080 | 4161 | 8322 | 16644 |

Photos - Uncompressed RAW (24 bits per pixel) Images per card
| | | | | | | | | | |
| --- | --- | --- | --- | --- | --- | --- | --- | --- | --- |
| Megapixels | File size (MB) | 1GB | 2GB | 4GB | 8GB | 16GB | 32GB | 64GB | 128GB |
| 4MP | 12.0 | 71 | 143 | 286 | 572 | 1144 | 2288 | 4576 | 9152 |
| 5MP | 15.0 | 57 | 114 | 228 | 457 | 915 | 1831 | 3662 | 7324 |
| 6MP | 18.0 | 47 | 95 | 190 | 381 | 762 | 1525 | 3050 | 6100 |
| 7MP | 21.0 | 40 | 81 | 163 | 326 | 653 | 1307 | 2614 | 5228 |
| 8MP | 24.0 | 35 | 71 | 143 | 286 | 572 | 1144 | 2288 | 4576 |
| 10MP | 30.0 | 28 | 57 | 114 | 228 | 457 | 915 | 1830 | 3660 |
| 12MP | 36.0 | 23 | 47 | 95 | 190 | 381 | 762 | 1524 | 3048 |
| 14MP | 42.0 | 20 | 40 | 81 | 163 | 326 | 653 | 1306 | 2612 |
| 16MP | 48.0 | 17 | 35 | 71 | 143 | 286 | 572 | 1144 | 2288 |
| 22MP | 66.0 | 13 | 26 | 52 | 104 | 208 | 416 | 832 | 1664 |