Featured Products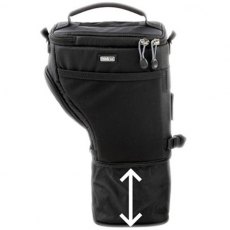 Think Tank Digital Holster 20 V2.0
Think Tank Digital Holster 20 V2.0 The Digital Holster™ 20 V2.0 is designed for regular size DSLRs such as the Canon 5D Mark II, 7D, and 50D or Nikon D700, D300s, and D90. The shape of the bag conforms to the camera itself, with one straight side and one curved side, so it can actually stand up on its own. "Pop Down" pouch increases bag height to accommodate a lens hood or telephoto lens Lens...
£59.90
Tamrac Jazz Zoom Holster Case 23 V2.0
Tamrac Jazz Zoom Holster Case 23 V2.0 The Jazz Zoom 23 Holster bag is designed to hold your mirrorless camera with 10cm attached lens. Your camera and lens are held in shooting position so that when you open the bag all you need to do is remove the set up and shoot. The 600D polyester bag features a zippered opening and two side mesh storage pockets for memory cards, or batteries. Portability is...
£17.90
---
---
---
---
---
---
---
---
---
---
---
---
---
---
---
---
---
---
---
---
---
---
---
---